Contact
Unified national sales hotline

18863603711
TEL:0536-7691069 7692398
FAX:0536-7691569
Contact:Zhang Taichang
Mobile:13806466179
Email:736797047@qq.com
ADD:Mucun Town, Fangzi District, Weifang, Shandong
Jin Xin (Wei Fang) foundry Co.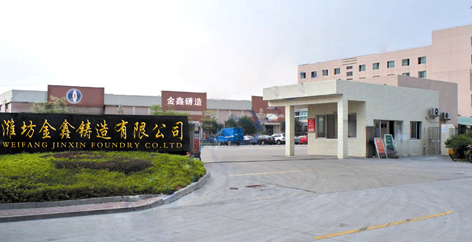 Ltd is located at the most famous export base of foundry products – Mu Cun town Fang Zi district Wei Fang city, 3 kilos to NO.309 national expressway and also close to Ji Qing expressway, Wei Lai expressway. Location is convenient to public transportation. Our company was previously named Wu Jia Foundry Factory, established in 1988, it was renamed Jin Xin (Wei Fang) Foundry Co. Ltd, early in the new century.
Our company has 12.60 million RMB as fixed assets, 20629 m2 occupied lands, 5069m2 as building area, 169 employees and 16 technicians in various fields. The company mainly produces ductile cast iron products, gray cast-iron products, including fire hydrant, valve body, turbine box, 69 kinds of flanges, valves (especially Butterfly valves). These products are widely adopted by ships, airports, power stations, and expressways. Products are sold to dozens of countries and regions such as Britain, US, Germany, France, Japan, South Korea and Australia.
Since the establishment of the company, special attention has been paid to the development of new products, investment of technology, improvement of quality. The products of our company have accessed the ISO9001 quality management system certificate. Zhang Taichang, the general manager of the company with all staffs warmly welcome friends from domestic and aboard for common development and cooperation.